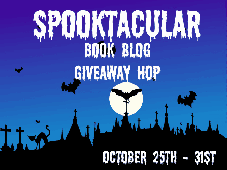 I am a bit apprehensive about this and it will be a miracle if it works, but here goes.
I have joined in the Spooktakular Book Blog Giveaway Hop
This is what I am giving away:
Jurassic Park novel by Michael Crichton
Koko by Peter Straub
Because neither of these books are Halloweenish, the winners will also get either a hand crocheted Pumpkin or Halloween Witch. (crocheted by myself) If you have read my blog before, you will be aware of how obsessed I am with crocheting.
To enter all I am asking you to do is leave a comment (a nice one please)
and some way of getting into contact with you if you are lucky enough to win
Either a link to your own blog or a email address.
Giveaway is open internationally and ends on October 31st.
That's it I think, as I've said it will be a miracle if this works.
Hop by all the other Blogs and enter their Giveaways: